A 'Wedding in a Box' is the latest trend in elopements in Australia.  You may have heard of the term 'pop-up' weddings?  Well, that's what a Wedding in a Box is  – the best part is that you can add to your package.   Weddings in a Box happen only on specific dates and locations, so you'll need to be flexible, and for the moment we're only operating on the Sunshine Coast – that's where our head Office is!
Your ceremony will be intimate and personal – but you won't pay huge prices because elements of your day are shared with other couples. Things such as Council booking fees, venue hire fees and event styling are all included.
Let us take care of the photography, styling, bouquets, hair and makeup, and of course all the legalities to help you have an amazingly beautiful wedding day. The one hour time slot allows you and eight of your closest family and friends to celebrate your special day in a relaxed and carefree way.
Your stress-free elopement on the Sunshine Coast will be elegant and absolutely perfect – we'll take care of everything!
The Wedding in a Box team promises you the beautiful, heartfelt wedding of your dreams – but without the usual high-end price tag.
We're releasing new dates soon 
The basic Wedding in a Box package includes:
A one hour time slot (10 minute ceremony and 40 minutes for photos)
Allowance for 8 guests
An award winning celebrant
A spectacular ceremony venue
Elegant ceremony styling including an arbour, 8 chairs and signing table and chairs.
A professional photographer whose images will blow you away! You'll get 50 high res images
Professional hair and makeup for the bride
Beautiful bridal bouquet and buttonholes – and there's a choice: A stunning living floral bouquet (a choice of white or pastels);  OR rolled silk rose or 'real touch' bouquet and buttonhole – your choice of colour; OR the latest in bouquet trends – giant paper rose bouquets and buttonhole.
It's a great package which starts from only only $2,490.
AND, you can add to it! Build your own package!
Upgrade to 20 guests
A small wedding cake (for 2 people or 20)
Have the hair and makeup artist come to your hotel
Bus transport to collect and drop off your guests who may be staying in surrounding hotels
Upgrade the photography package
Add videography
you tell us what you want and we'll price it for you.  
THE FINE PRINT: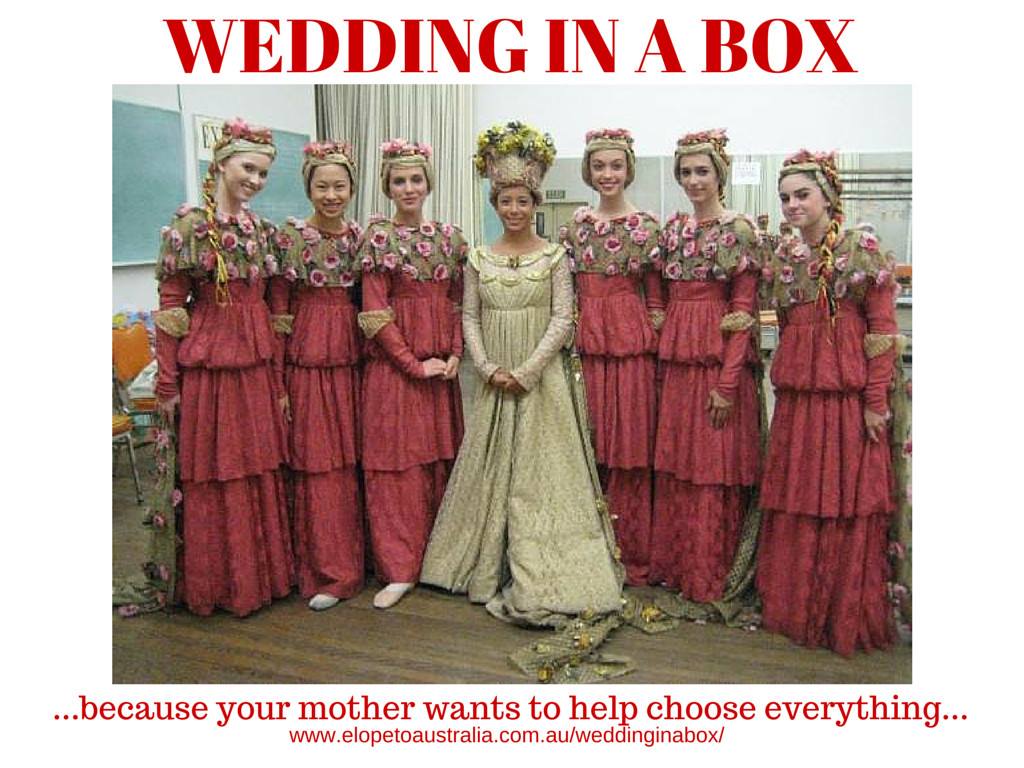 The simple terms:
The package is for a one hour time slot with Bride and Groom and 8 guests. An upgrade to 20 guests is available.
A booking form completed and returned by email and a 50% non-refundable deposit is required to book (Bank details to be supplied when the booking form is received)
The NoIM must be lodged with your celebrant at least one month prior to the ceremony  (Celebrant address and details to be supplied after booking)
Full payment is required two (2) weeks prior to the ceremony date
The first couple to book gets their choice of ceremony time, and so on
If the ceremony starts late, it will affect the photography time
If you want to take advantage of this fabulous offer, email me for a booking form:  info@elopetoaustralia.com.au  or  0400 595 679
Let us know if you would like to be added to our database for more Weddings in Box dates and news or book an elopement package for more flexibility.